HOW WE INSTALL ARTIFICIAL GRASS
Consumer Grass are a specialist artificial grass installation company. All our artificial grass installations are carried out to the highest standard possible, using only high quality materials. When we quote you a price for your artificial grass installation, the price includes all aspects of the installation (unless stated otherwise at the time of the quote).
The price will include all the delivery costs, waste removal costs, as well as the material and labour costs. When you hire us to install your artificial grass you don't need to worry about anything. We will take care of the whole project from start to finish, and when the project is completed will will clear up and take away any mess; leaving you to enjoy your new beautiful artificial lawn.
The steps involved in installing your artificial grass will depend on the surface we are installing it onto, a typical real grass replacement installation will consist of the following stages.
Remove existing turf and dig out the soil. We use a specialist turf cutter to excavate and dig down approximately three inches.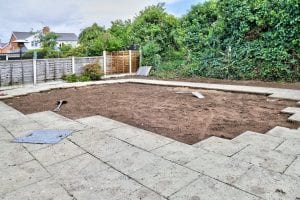 We then level out the area where the new artificial grass will be installed and dispose of the old lawn and soil.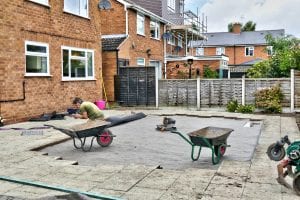 To prevent weeds from growing through your lawn, lay weed membrane to the entire lawn area, overlapping edges to ensure weeds cannot penetrate between two pieces. We use galvanised u-pins to hold the membrane in place. If your existing lawn or garden is particularly prone to weeds we will spray the area with weed killer beforehand.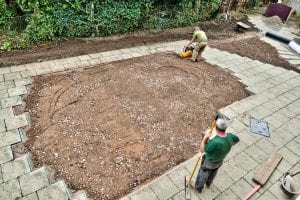 If there's not an existing hard edge or wall around the perimeter of your lawn, you'll need to install some form of retaining edge. For this, you can use either treated timber, steel edging, timber sleepers or brick/block paving. We recommend using treated timber edging where possible as its also perfect to fix the grass to. Timber edging will need to be screwed to wooden stakes driven into the ground with a club hammer or sledge hammer.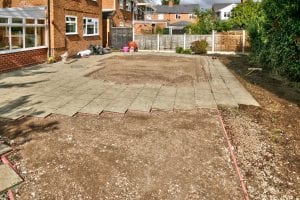 For the sub base we use MOT Type 1 at a rate of roughly 1 tonne per 10m2. We then rake and level the aggregate making sure it is thoroughly compacted using a vibrating plate. This process not only creates a fantastic base but also helps improve drainage.
The next preparation stage is where we fill the area with grano dust at a rate of roughly 1 tonne per 15m2. This is then compacted down until the surface is smooth. The aggregates will reach the top of the wood perimeter prepared earlier.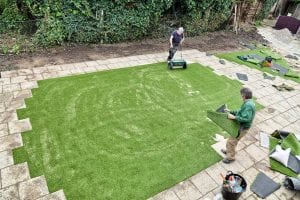 We then roll out the Artificial Grass and get into position. Straight lines are cut along the seams that we join. Joining tape is then laid under both pieces making sure there are no gaps. We add glue to the joining tape and butt the two pieces together. We cut the grass to shape along the perimeter and staple to the wooden edges.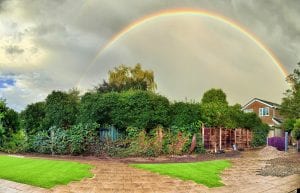 Finally your grass is finished and ready to enjoy!